In his latest whatsapp message (last Sunday), our local coordinator Ikom writes "I am getting ready to take our piglets to the Abar piggery. However, before leaving, there is something we should, which I know neither you nor Jeff will like since you are not Africans…". What is that all about?
Look at the photo above. In a piggery, a pig looks at a pot suspended on a 3-branched tree. That is not a normal pot. It has been created by Pa Gabriel, a so-called "native doctor", that is, a man who spends quite some time of his life in what locals represent as the world of ancestors and other spirits. We could call him a witch doctor, but maybe "doctor of the invisible" is probably closer to an adequate definition.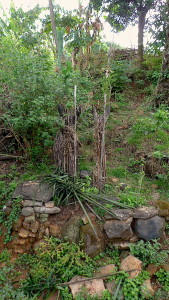 Ikom continues "We are in Africa here, and here if I do not put a pot to protect pigs and piggery we will expose all of our work to a number of risks: pigs can be poisoned, cursed, stolen… We must offer a goat to Pa Gabriel and he will make a pot like this one for us. If Pig for Pikin will not cover this expense I will do it with my own money. I will go to Abar only when I will have this pot ready to be taken along." What would you do?
Nobody would ever think of investing money in a project without purchasing an insurance on goods and other properties. That this insurance in our world is paid via bank transfer whereas in Lower Fungom this is obtained through a goat (worth $50)… well, variety is the spice of life, isn't it?
We are still 40% in our crowdfunding campaign which will end on July 4: Please consider making a donation to a project that really shuts up and listens to the beneficiaries' worldview without judging it!
Pierpaolo Di Carlo