Bamenda, capital of the North West Region of Cameroon, 1.600 m above sea level, 5°56′N 10°10′E. A morning in late November, 2014. Dry season.
As part of our new NSF-funded project I am in town for coordinating and delivering two training modules at the Catholic University of Cameroon. No matter how tiring, my duties do not end here: Jeff, the project PI, and myself have agreed on adding a community development component to our project, and this means that I must look for people, organize meetings, evaluate proposals. All in short time, as in one week we will meet the traditional chiefs of the villages of Lower Fungom.
I call Father Victor, a gentleman living his life as a priest with genuine passion for justice, peace, and inclusivity. Last night, in front of a Guinness and a "burnt fish", he mentioned that there is a Portuguese couple who is leading a big development project through an NGO called "ReIgnite – Action for Development". Awareness of important features of local cultures, deep knowledge of the area and of village-internal micropolitics, commitment to sustainability: the more I listen to Victor's description of the two Portuguese, the more I realize I like them.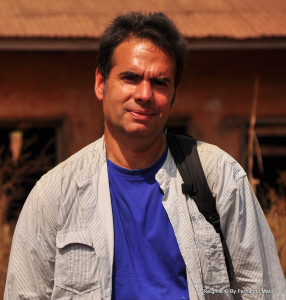 So, early in the morning I try to call Fernando. I manage to speak with someone only when I try calling Teresa. I begin with a timid "bom dia senhora Teresa", but then realize I can keep my memories of Portuguese language at bay. Teresa speaks a crystal clear English, and her voice is soft, delicate, and pleasant. I picture her dressed in voiles, sitting on a comfortable colonial chair, sipping a cup of tea in a lush green, silent garden, a fresh breeze around. We arrange for an evening meeting at their place in Bambui, 20 minutes northeast of Bamenda. I hang up the phone call and look outside: it's 8.30am and the sun is blistering already, the roads of central Bamenda are noisy and dusty, and I do not even have a kleenex to blow my nose, let alone gardens, chairs, etc.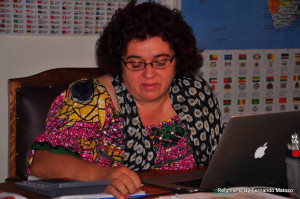 As soon as Fr Victor and I arrive in Bambui on that evening, I realize my imagination had brought me too far along the stereotype: the house is nice and well-kept and Teresa extremely welcoming, but she can in no way be associated with anything colonial. Her patience and very delicate manners are conquests in a life full of activity, beginning at dawn and ending at late night, every single day. Fernando and Teresa are two perfect examples of smart, active, and very open-minded Catholics committed to give meaning to their lives by trying to answer the question "how can we really help the poor?". "Really" is the keyword here.
In slightly more than a couple of hours we speak of how to build roads in a sustainable way, organic farming, bee keeping, chiefs, local hierarchies, and secret societies (an essential component of societies and of people's representation of reality throughout West Africa). Fernando and Teresa are very keen to stress the importance of impact, of constant monitoring, of availability to listen to the others and to change plans if needed.
I realize they do not feel they have the best model. They just work on developing one every single day of their lives. I can only admire them for the radical choices they made in their lives, while I wonder if I would ever be able to reach this point of self-awareness.
During our meeting we discuss of Lower Fungom (which they have visited once) and of the possible avenues lying ahead for the development project Jeff and I want to implement. My previous days had been full of anxiety as I felt the pressure of rising expectations on the part of everyone: Jeff, my collaborators, the Lower Fungom people and, especially, their traditional chiefs. I now start feeling better, more relaxed, now that I know there is someone who can really advise me on how to go about managing a development project. I did many different things in my life but coordinating a development project, no, that is an experience I still lack.
Teresa and Fernando offer us a delicious dinner, I took photos of a very rare book on sustainable road construction works, and then we say goodbye. The car hits a bump, I hit my head on the metal ceiling, look outside and see two drunk men arguing heatedly. What if I end up creating something that will end up harming the beneficiaries? What if the project will eventually favor social injustice? What if people will start fighting among each other due to the project? … Teresa and Fernando I miss you!
Pierpaolo Di Carlo